| | |
| --- | --- |
| Al Nayzak Signs 8 Agreements to Incubate Innovative Engineering Projects | 24th January 2017 |
Ramallah, Gaza: Al Nayzak for Scientific Innovation signs 8 agreements to support and incubate scientific, technological and engineering projects as part of its Made in Palestine Program implemented in partnership with Diakonia. MIP aims to support and develop Palestinian economy and to connect scientific research with businesses and industries.
The event took place in the Science and Technology House in Birzeit with the attendance of Dr. Safa Abu Assab on behalf of Diakonia, Eng. Aref Husseini, Chairman and Founder of Al Nayzak, his Excellence Eng. Adnan Samara Chairman of the Higher Council for Innovation and Excellence, Mrs. Nour Nusseibeh Director of Operations Department at Al Nayzak, in addition to a delegation of young innovative entrepreneurs.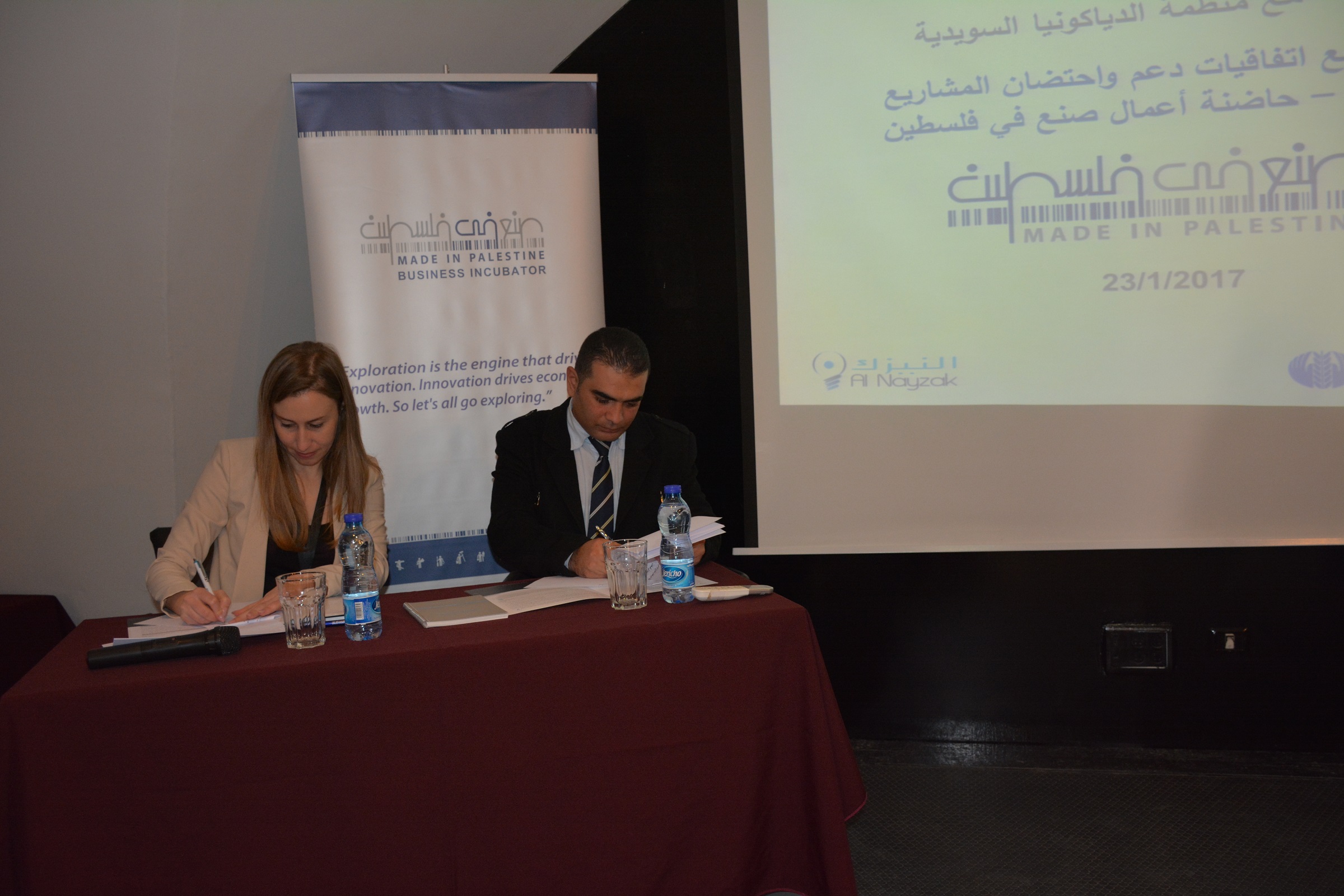 On behalf of Al Nayzak, Eng Aref Husseini welcomed the attendees and thanked Diakonia for their innovative role in supporting Palestinian entrepreneurship and contribution to social economic development. Eng Husseini highlighted the Higher Council's role in incubation of innovation, and further emphasized Al Nayzak's role in supporting Palestinian youth and incubating scientific, technological, and engineering projects.
Dr. Safaa Abu Assab, representing Diakonia, thank Al Nayzak and The Council for their strategic partnership, and emphasized the need to include girls and women in innovation and entrepreneurship to enhance and enrich production and development.
On behalf of the Higher Council for Innovation and Excellence, his Excellency Eng Adnan Samara expressed his pride with such accomplishments and the role of local organizations in promoting and producing knowledge.
Al Nayzak supported Al Zaytoona heating company for entrepreneur Hakam Kitaneh, Stone Crusher Machine for Dr Sameh Abu Awwad and a group of reserachers, Medical Development Project for Mutasem Abdel Rahman, Livestock medical equipment project for Dr. Rashid Jayousi and researchers, Physical reactor project for energy for Jamil Abu Madi, Medical Appliances project for Tamer Salayme, Safe Car Project for Eyad Amro, and Smart Hands Project for Dina Ghalayeni and Ruba Dawahidi from Gaza.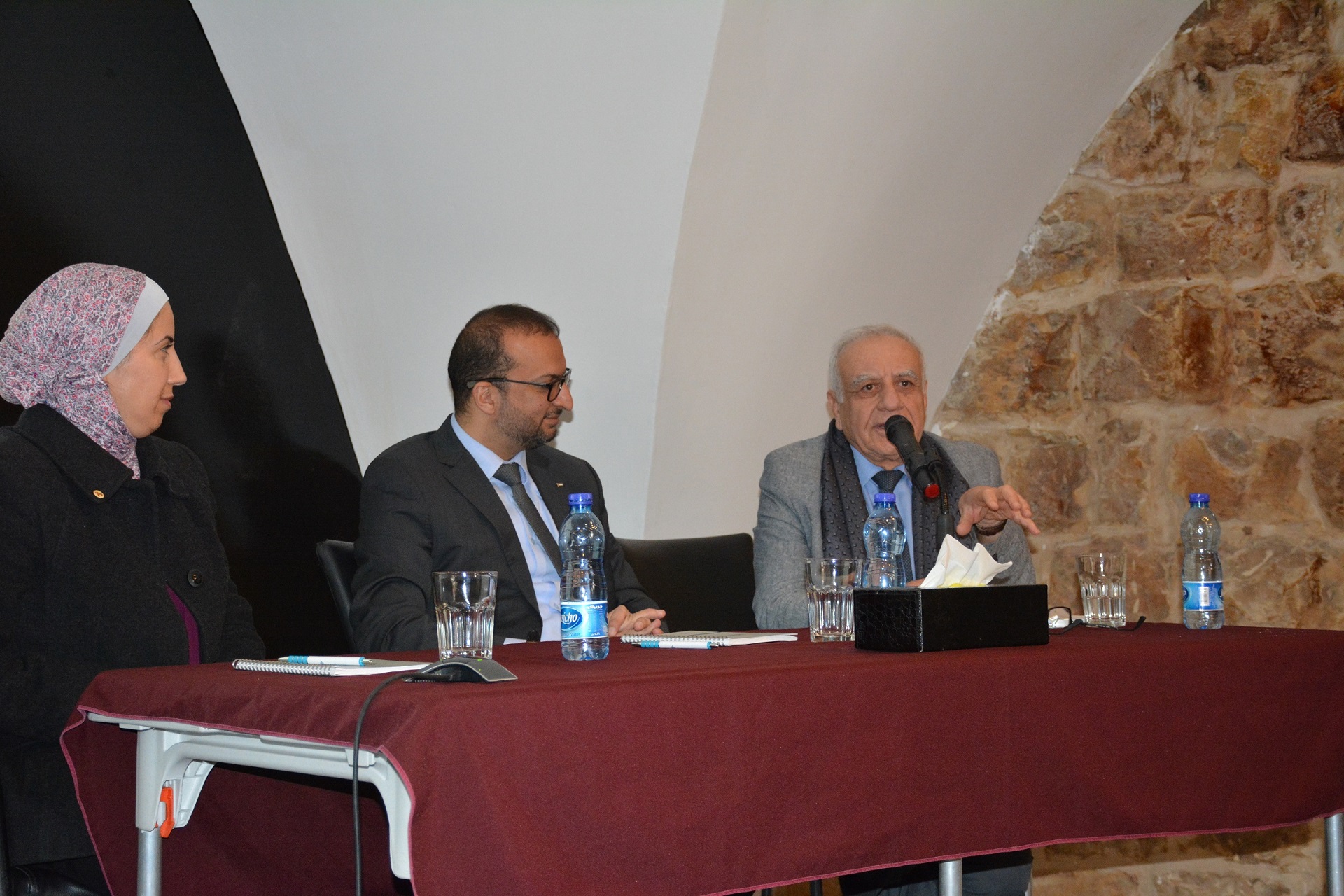 "Made in Palestine" Incubator is one of Al Nayzak's Annual programs. It aims at supporting new innovative ideas in science, engineering, and technology, and linking the academic experience gained at university level with the technical skills needed to proceed in business, in an effort to provide solutions to the technological, scientific and industrial problems encountered by local community.
The program's essence is to provide Palestinian innovators inside and outside universities with the feasible opportunities and possibilities to achieve their hopes and aspirations which, in turn, could lead to results of practical value in developing new products or solving technical problems using creative methods and mechanisms.
Post the great success for the program in creating a culture of innovation and celebrating creativity in Palestine, the program is implementing the startup methodology to incubate and scale up the enterprises until they become capable to unlock new markets locally and internationally with competitive products labeled as "Made in Palestine".